Hideaways and Beds for Cats
There might be one chair in your home that has become the favorite among the cats and there may be some bickering over who gets to sleep in it. Provide other cozy napping options to reduce disputes. Place A-frame beds, or donut beds on shelves or tucked away in corners for the cats who prefer to remain hidden while napping. Install padded window perches for the cats who like to nap in a sunny window. Observe your cats' sleeping habits and location preferences so you can provide comfortable options for each one.
Some cats may like to remain somewhat hidden when entering a shared territory area. In that case, place cat tunnels around so a kitty can move through a room and feel invisible.
Feline-Friendly Vertical Territory
You can greatly increase your cats' territory just by increasing the vertical space in your home. Cat trees, cat shelves or window perches are easy and effective ways to help cats feel as if they have more physical territory than they actually do.
Multi-perched cat trees allow more than one cat to remain in close proximity to one another while still maintaining some degree of a pecking order. A cat tree may initially seem like an expensive investment but it will be a valuable and well-used piece of real estate inside your home. If may the most stress-free way for a couple of cats to look out of the same window. It can also be a way that a higher-ranking displays status without having to resort to aggression. When shopping for a cat tree, choose one with large perches so cats feel comfortable without having legs hanging off the end. I recommend U-shaped perches so a cat can feel his back up against something which can increase his sense of security.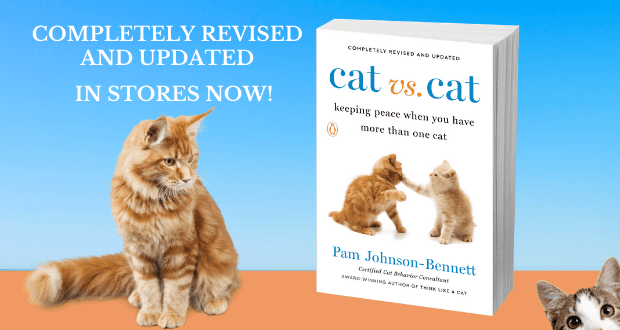 Cat Playtime
Engage your cats in interactive playtime but don't ask them to all compete for one toy or else there's a strong probability that the game will turn from fun to intimidation. Instead, schedule individual interactive playtime with each cat each day. If you have a couple of cats who are very bonded and do play cooperatively without intimidation, then you can have them share the interactive toy as long as you're careful to make sure each cat gets their turn.
Monitor the Relationships Between the Cats
It's up to you to watch the body language of your cats and monitor whether there is tension brewing. Use appropriate behavior  techniques to diffuse tension and prevent the situation from escalating into something hostile. Keep your cats engaged in activities that distract them from picking on each other. Use environmental enrichment to keep cats happy and satisfied. Set up puzzle feeders, rotate toys and place them in interesting locations, engage in twice-daily interactive play sessions and work on any issues before they become big problems.
Need More Information?
You can find the latest on managing a multicat household in the revised and updated edition of Pam's best-selling book, Cat vs. Cat.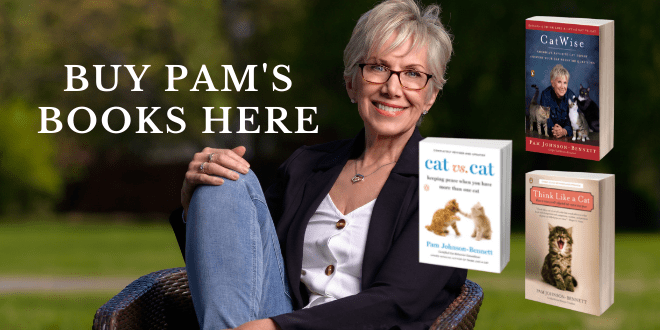 For more information on cat behavior and training, refer to the articles on our website and the best-selling books by Pam Johnson-Bennett. If you have a question about your cat's behavior or health, contact your veterinarian. This article is not intended as a medical diagnosis nor is it a replacement for your cat's regular veterinary care. This article is for general information purposes only.