Interactive play therapy. Engage your cat in a couple of interactive play therapy sessions per day. When you use a fishing pole-type toy you can control the movements so your cat is able to truly benefit both mentally and physically. She gets to get the "mighty hunter" and enjoy stalking, pouncing and capturing. Be consistent about the play schedule and try to conduct at least two 15-minute sessions per day. Cats like the comfort of familiar routines.
Safe alternatives for chewing. In addition to puzzle feeder toys, try growing some safe kitty greens (rye, oat or wheat grass) or catnip for your cat. You can find kitty greens kits in your local pet product store. You can also buy an already-grown square of grass from many organic food stores or grow your own. Don't offer grass from your lawn because it's often treated with chemicals and fertilizers.
Reduce stress. Use your detective skills to determine what is causing stress in her environment. Is there another companion cat causing tension? Is there stress in the family? Have you made changes to your cat's environment? Stress triggers can be big and obvious or they can be small and easy for humans to overlook. Work on creating a more secure and comforting environment for your cat. Make sure she has cozy little hideaways for napping, elevated areas so she can look over her environment, has a secure feeding station location and a secure litter box area. Look at the environment from your cat's point of view. In a multicat household, be sure there are adequate resources for each cat and that they're located in various areas so one cat doesn't have to cross another cat's preferred area in order to access the litter box, food/water bowls or a napping location.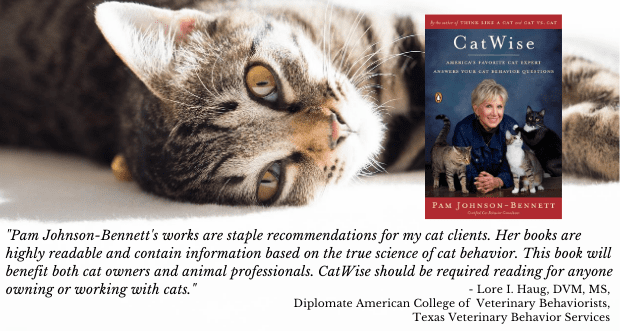 Get professional help. If you can't figure out what might be triggering pica or have been unable to redirect your cat away from the behavior, ask your veterinarian for a referral to a certified behavior professional.
Need More Information?
For more information on cat behavior and training, refer to the best-selling books by Pam Johnson-Bennett. Her books are available at bookstores everwhere, through your favorite online book site, and also here on our website.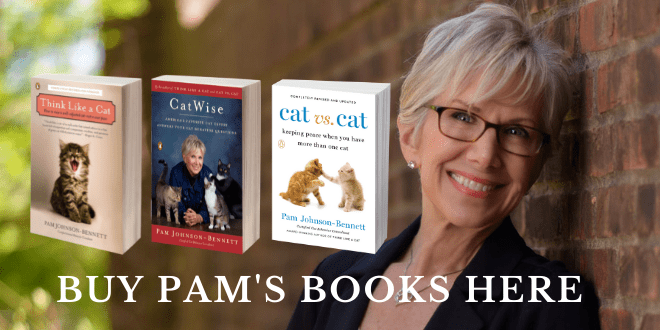 You can find more information on cat behavior and training in the articles on our website as well as in Pam's best-selling books. If you have a question regarding your cat's behavior or health, please contact your veterinarian. This article is not intended as a replacement for your cat's veterinary care. This article is for information purposes only and not offering medical advice or providing a medical diagnosis.