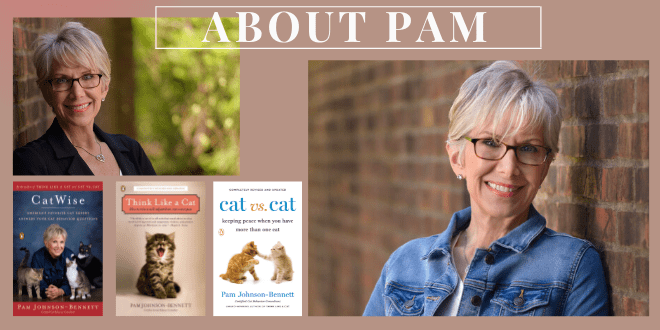 The Author
Pam Johnson-Bennett is the best-selling author of 8 books on cat behavior and training. She starred in the Animal Planet UK series Psycho Kitty, and is one of the most popular and sought-after cat behavior experts in the world. She is considered a pioneer in the field of cat behavior consulting and has influenced many practicing in the field today. Pam began making house calls to work with clients on cat behavior problems in 1982 and had her first book published in 1990. Since then, she has led the way as an inspiration and mentor to many in the cat behavior profession and her books have been used as texts for professional behavior courses.
Pam Johnson-Bennett was vice president of the International Association of Animal Behavior Consultants and founded the IAABC Cat Division where she served as its longtime chair for 8 years. She currently is a member of the Advisory Board of Daily Paws. Pam served on the American Humane Association's Advisory Board on Animal Behavior and Training and was also a member of the American Humane Association's Cat health and Welfare Forum. She served on the Advisory Board for Tree House Humane Society and has also worked with the Winn Feline Foundation as well as multiple other animal welfare organizations.
Pam's "Think Like a Cat" Approach
Pam's ground-breaking Think Like a Cat approach to cat behavior has been featured and profiled worldwide through the years. To the cat behavior professionals in the field today, Pam Johnson-Bennett has been a mentor and leader since she first paved the way in the early 1980s. Her books are considered the "cat bibles" when it comes to understanding felines and what makes them tick. Much of the information you read on the websites of shelters, animal welfare organizations and behavior experts as well as what you see on cat-related TV shows came from Pam's books, articles and lectures. You can easily see her influence in the current books on cat behavior today. Pam's Think Like a Cat method has improved the lives of thousands of cats through her work with clients, shelters, her books, worldwide lectures and media appearances. Her book, Think Like a Cat, consistently remains a best-selling cat training book.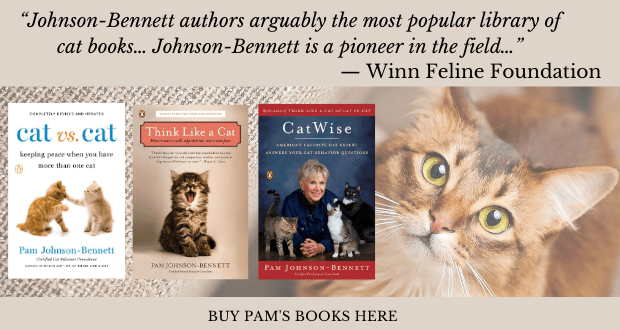 IN THE MEDIA AND ON THE ROAD
In late 2020, the revised and updated edition of Cat vs Cat, Pam's best-selling book on managing multicat households, was released.
In 2020, she was the spokesperson and behavior expert for Arm & Hammer Cat Litter's "Purrfectly Impurrfect" Campaign, to help raise awareness of shelter cats often overlooked for adoption due to age, physical appearance, or behavior. She is teaming up with Arm & Hammer again for the 2021 launch of "Purrfectly Impurrfect". She also serves as a behavior expert for the brand.
Pam's CatWise book tour was a first-of-its-kind national cat café tour. The tour was to promote adoption through cat cafes. The tour was sponsored by Wellness Natural Cat Food and in its role as presenting sponsor, Wellness donated 1000 meals to each local shelter connected with the cat cafes. Pam has also written numerous expert articles and done video narration for Wellness.
Pam was the spokesperson and host for the national tour of the Friskies Ultimate Cat Habitat. The design was one of the first that focused on environmental enrichment for cats. She was also the resident behavior expert for Friskies and spokesperson for their national shelter grant program.
She has been an award-winning behavior columnist for numerous magazines and online sites, including Cats Magazine, Modern Cat Magazine, The Daily Cat, and Cat Fancy online. She was also the resident cat behavior expert for Yahoo and ivillage.
Pam makes numerous appearances on national television and radio. Pam has been featured on CNN, Fox News Channel, Fox & Friends, National Geographic, Animal Planet, AM Canada, Animal Planet Radio, and many more shows. She has been featured in print and online publications as well. She also travels extensively as a featured speaker on cat behavior, training and shelter issues at veterinary and animal welfare conferences, pet expos, and book festivals internationally.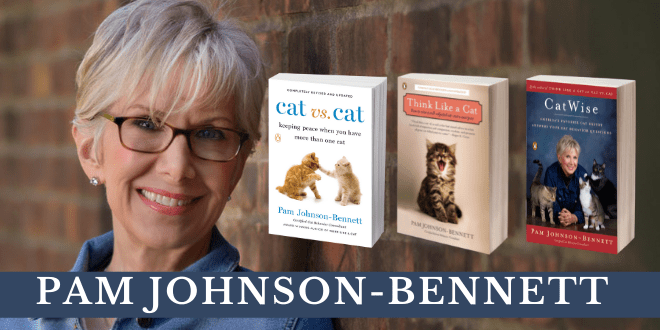 Pam is the recipient of numerous honors including the Winn Feline Foundation Award, multiple Cat Writers' Association awards, the IAABC Cat Division Award and the Cat Fancy Magazine Hall of Fame.
She was the first author to address the unique needs of multicat households.
Cat Behavior Associates
Pam owns Cat Behavior Associates, LLC, a private veterinarian-referred behavior company in Nashville, TN. For information regarding a virtual behavior consultation with Pam, visit our consultation page. For questions regarding booking Pam for a media appearance, book signing or lecture, visit our contact page.