Too many cats are bored, depressed and inactive because there isn't enough stimulation in the environment. If you work long hours or if you have a single kitty who spends so much time alone in her home, it can get to the point where there just isn't anything interesting to do. Is there a way to keep your cat entertained while you aren't home? Yes! That's where puzzle feeders come to the rescue.
The concept behind the puzzle feeder is that the cat has to figure out how to get the food out of the puzzle toy and then is rewarded with the food when she succeeds. This is a great way to entertain your cat when you aren't at home.
The benefits of using a puzzle feeder include more than just the fun of seek and reward. It's helpful if you've put your cat on a diet because she'll have to work (play) for the food and will eat slowly since only a small amount is dispensed at a time. It's also beneficial for cats who tend to gulp their meals too quickly. And of course, it's a great boredom buster. I also incorporate the use of puzzle feeders with my clients' cats who are in stressful situations. They can focus on the fun activity of trying to get food out of the puzzle feeder as a distraction from whatever is causing anxiety in the environment.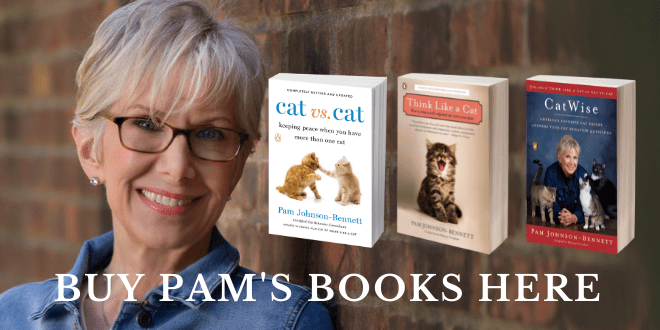 Puzzle feeder designs
When it comes to puzzle feeders there are many design options. They range from very simple ball designs with a hole in them for dispensing kibble, to very complex structures that will provide entertainment for more than one cat at a time. You can use dry food or wet food in the puzzle feeder, depending on the design of the particular feeder toy.  A simple search on Google will turn up lots of sites that design and/or sell puzzle feeders for cats. You can also buy some at the pet product store but if your cat is up for the challenge, companies who specialize in puzzle feeders and animal environmental enrichment will have the most selection. Some companies who manufacture puzzle feeders include Kong, Premier, Our Pets and Nina Ottosson. Nina's toys are mostly designed for dogs but she does have some great cat puzzles. You can also use some of the dog puzzle feeders if you choose the plastic versions and not the wooden ones. At our house, Nina Ottosson's plastic dog brick is a very popular item.
Homemade puzzle feeders
To make a homemade puzzle feeder box, take a small cardboard box and cut holes that are larger than the size of your cat's paws. Cut these holes in random places. Tape the flaps of the box closed and then toss some dry kibble in there. Shoe boxes make good puzzle feeder boxes.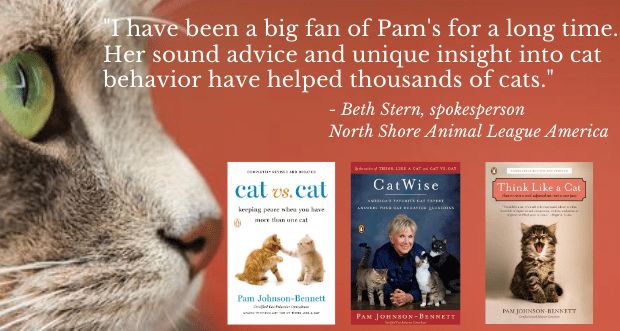 A popular homemade puzzle feeder design at our house is the toilet paper tube feeder. Take the cardboard center from the toilet paper roll and cut holes in it that are a little bigger than the size of the kibble. Fold the ends in to close them and you have an easy and cheap puzzle feeder. I also make one out of a small plastic water bottle. I cut holes in the plastic and then pour some dry kibble in there. Replace the cap and you have a feeder that's easy for the cat to roll around and also makes an enticing sound.