What About More Complex Homemade Puzzle Feeders?
Collect the paper towel or bathroom tissue cardboard tubes and then tape them together in a pyramid style. If using paper towel tubes you'll have to cut them in half. Attach the pyramid to a flat piece of cardboard and you have a honeycomb-style puzzle feeder where you can place treats in many different compartments. Use your imagination when it comes to creating puzzle feeders. Just keep in mind that you want the experience to be rewarding and not frustrating.
Another way to make the puzzles more challenging is to cut smaller holes in the water bottle, yogurt container or tubular cardboard feeders. Just make sure they're always larger than the size of the kibble or treat.
Can I Use Wet Food With Puzzle Feeders?
A simple wet food feeder is easy to make using a muffin tin or egg carton. Just place a little drop of food in each compartment so the cat has to walk around a little to discover each reward. Even just dividing up the wet food into various dishes and placing them around the cat's play area will create a game of reward-based hide-and-seek for her.
Some commercial puzzle feeders can be used with wet food as well. I stuff a little wet food inside of a dog KONG toy for my cat. I use the small size so it's easy enough for her to hold and access the food inside.
Where Can I Buy Puzzle Feeders?
Go on your favorite search engine and type in "puzzle feeders for cats" and you'll find lots of companies that make them as well as many videos with more how-to information. Not every commercial puzzle feeder is good though so take into consideration your cat's age, personality and health when choosing which product would be best. Many of the companies have videos on their sites so you can watch a tutorial on how the product works and whether it's a good match for your cat.
Where Can I find More Information on Feeding My Cat?
If you have questions about what food is best for your cat and how much to feed, the place to start is at your veterinary clinic. Your veterinarian is the best person to advise you on the nutritional plan for your individual cat. You can also find information about mealtime behavior in the books by Pam Johnson-Bennett.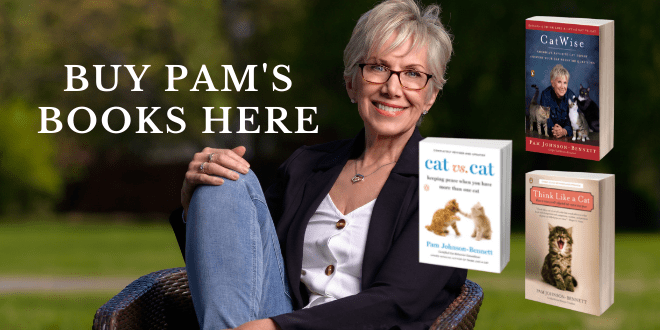 For more information on cat behavior and training, refer to the articles on our website and the best-selling books by Pam Johnson-Bennett. If you have a question about your cat's behavior or health, contact your veterinarian. This article is not intended as a medical diagnosis nor is it a replacement for your cat's regular veterinary care. This article is for general information purposes only.