Even though you may not be able to see it, if your cat sprays in your home you can definitely smell it. The unmistakable odor indicates all is not peaceful in your cat's universe. When a cat sprays, it can put everyone in crisis mode and it can put the cat at risk of being relinquished to the shelter, given away or sadly, even euthanized. Many people don't understand why cats spray so they don't understand how to effectively deal with it.
Many people misunderstand the motivation behind spray-marking behavior. All-too-often, cat parents simply label the behavior as territorial marking but that isn't the only reason cats spray. Unless you can uncover the true cause for the behavior, you won't have much success in stopping it. So it's time to sharpen your detective skills and do some undercover work.
Note: whenever you're dealing with any behavior that involves a cat not using the litter box, it's crucial you have him examined by the veterinarian. Even if you're sure the problem is behavioral, it's important to rule out underlying medical causes.
Spraying vs. Normal Urination
To start with, you need to know that there's a difference between spraying and normal urination. If a cat urinates outside of the litter box it doesn't necessarily mean he's spraying. These are two different behaviors and can have different causes. Typical urination is usually done on horizontal surfaces. Spray-marking is usually done up against vertical objects but some cats will spray regardless of whether there is a vertical surface present. In this case, the sprayed urine will form a thin line as opposed to the typical puddle during urination.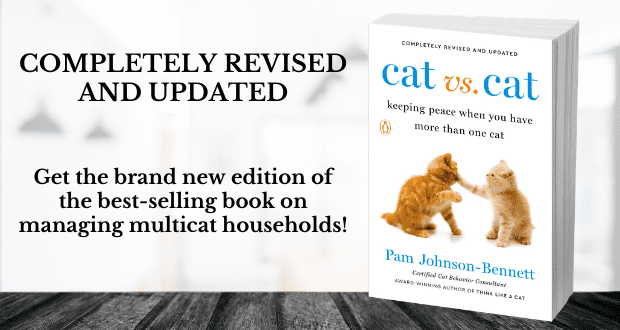 The posture for spraying is different from normal urination. When a cat sprays he typically backs up to the object, twitches his tail and begins treading with his front paws. He may also close his eyes while spraying. When a cat (male or female) displays normal urination, he usually squats.