14. I need some hiding places. There are times when I may not want to be in the center of things or may just prefer to be "invisible" if things in the home get a little hectic. To be able to retreat to a hiding place will allow me to better cope with my anxiety or fear.
15. If, at some point, you decide I need to have a feline friend, please help us get to know each other slowly. I am a territorial animal and I need to feel as if my home is safe. Please don't just place another cat in my environment. Take the time to ease us both through this transition in a positive way.
16. Increase the chances of me getting safely returned to you if I get lost by having me microchipped. It's something the veterinarian can do and only takes a few seconds.
17. Teach me to become comfortable with my carrier and to tolerate travel. It will make trips to the veterinary clinic much less stressful for both of us.
18. Don't leave me alone when you go out of town. Many people think cats can easily stay alone for days as long as they have a bowl filled with food. Many things can happen where I could get hurt or sick. I may also experience separation anxiety from the sudden disappearance of my family. For my safety, and for your peace of mind, please hire a reliable and caring pet sitter or have a trusted friend check on me a couple of times per day. Being left alone can be very scary.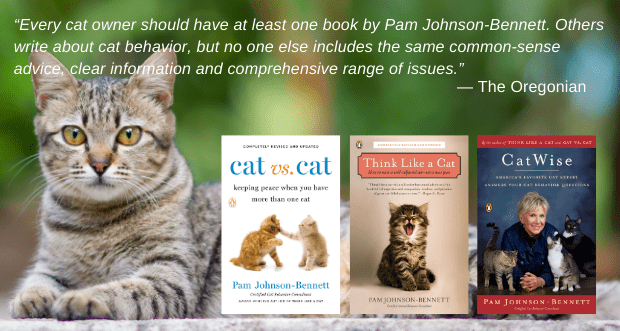 19. I'm an excellent communicator. Take the time to learn to read my body language signals and we can avoid many misunderstandings. Some of my signals may be subtle but others will be very obvious. I'm a good teacher if you take the time to learn.
20. And finally, I need to be a permanent member of your family. As a kitten, I'm adorably cute but please don't change your feelings for me as I mature. I'm not disposable. I need and deserve a forever home.
Need More Information About Cat Training and Behavior?
If you have a new kitty in your family or are thinking of getting one, take the time to learn about what cats need. For more specific information on cat behavior and training, refer to the best-selling books by Pam Johnson-Bennett. Pam's books are available at bookstores everyone, through your favorite online book retailer and here at our website.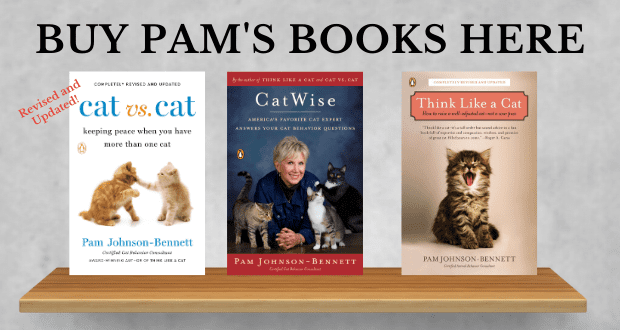 For more information on cat behavior and training, refer to the articles on our website and the best-selling books by Pam Johnson-Bennett. If you have a question about your cat's behavior or health, contact your veterinarian. This article is not intended as a medical diagnosis nor is it a replacement for your cat's regular veterinary care. This article is for general information purposes only.